About Franciscan Square
Financed by Franciscan University and other developers, with the help and cooperation of the City and School Board officials, the new complex will eventually expand beyond The Inn and Suites at Franciscan Square and the businesses that have established themselves around the Green.
Plans are also underway to explore the phased-in construction of other multi-use buildings, like a meeting center and retail and office space. Facilities in the third phase could include several office buildings as the market demands.
Franciscan Square Logo
Designed by graphic artist Marie Highfield, the Franciscan Square logo contains elements that bespeak the Catholic, Irish, and local connections of this exciting new property development in Steubenville, Ohio.
The logo's green and gold—the school colors of Franciscan University of Steubenville—make reference to the University as Franciscan Square's nearest neighbor and the force behind the biggest property development in Steubenville in more than 30 years. The color green also recalls the former name of the property, locally known as "the Green Strip" for many decades.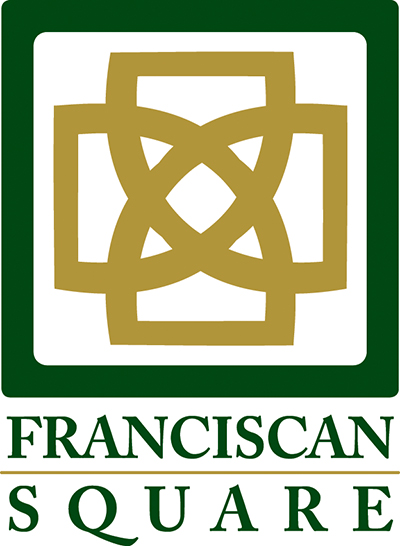 Construction
Built on what was once referred to as "the Green Strip," Franciscan Square replaces several abandoned and dilapidated industrial buildings, improving visitors' first impression of the city and laying the foundation for further growth in Steubenville and surrounding communities.
After years of planning, construction on Franciscan Square began in May 2015.
The first priority was to provide a solid foundation to support the new buildings. So, 18,000 cubic yards of soil were transported to the site, raising the ground as much as 8 feet in some areas.
Next, a massive gray retaining wall was built to hold back the hillside.
The 5,500 square-foot minor marvel of engineering is called a soil-nail wall. It is anchored by strategically engineered holes drilled into the hillside, some as deep as 55 feet.
Each hole was then filled with a reinforcing bar and grout and further supported by the concrete finish. Within five years the vegetation planted above, below, and on a hillside shelf will render the wall all but invisible.
Construction on the hotel was completed in October 2016.
Franciscan University
Almost 3,000 Students and Faculty on Campus
Roman Catholic University named one of America's "Best Value" among private universities by Kipplinger's Personal Finance Magazine
Designated in the top 10% nationally for graduation and retention rates by U.S. News & World Report
17 NCAA Division III Athletic Teams
Top 4% of all Colleges and Universities for the Number of Students Who Study Abroad
arrow_back